August 26, 2016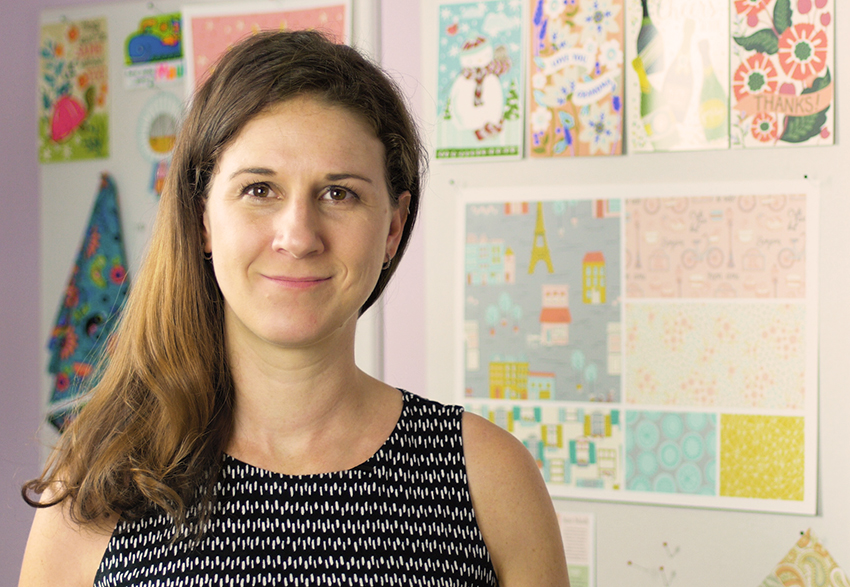 The best day of the week: Feature Friday! Today we are so excited to have a chat with Elizabeth Silver, an endlessly talented designer from Raleigh, North Carolina, who bringsĀ her fresh, colorful aestheticĀ toĀ life with dozens of birthday, entertaining, and wedding-related templates for Greenvelope.com. For us, it is an incredible honor to work with such talented designers from all over the world and we're excited to share a 'behind-the-scenes' look at the people behind the art.
(p.s. you're going to want to make sure you hear Elizabeth's favorite joke, so keep scrolling…)
Can you share a bit more about your journey as an artist — how you got started to where you are now?
I was always interested in art, I used to do all sorts of crafts as a kid and even converted half our basement into an ā€˜art studioā€™ complete with tons of supplies and a hand painted wall mural. When it came time to choose a study in college, I wasnā€™t interested in pursuing art for artā€™s sake, I have always been much more interested in practical applications and so I chose Surface Pattern which is very simply creating art to decorate a surface. Often that means repeating patterns like on textiles and wallpaper, but these days it can also encompass non-repeating design, like a pretty cover of a notebook. I was lucky to discover this discipline in school and be able to jump right into a related career when I graduated, working in New York City designing prints for home textiles and then childrenā€™s apparel.
After 10 years working in-house, I left my job in order to leave New York, and I hooked up with Greenvelope shortly after. At this point I have been freelancing for 4 years, and licensing my art for three. Besides online stationery, I also design for paper, textiles, dinnerware, and gifts. Variety is definitely the best part of working for myself! This year, Iā€™ve met a lot of other pattern design and licensing artists online and have been offering creative business tips and trends for the home, textile and stationery markets via my ā€˜Fresh Found for Artistsā€™ email subscription, and itā€™s been a lot of fun, in fact Iā€™m becoming a bit trend obsessed!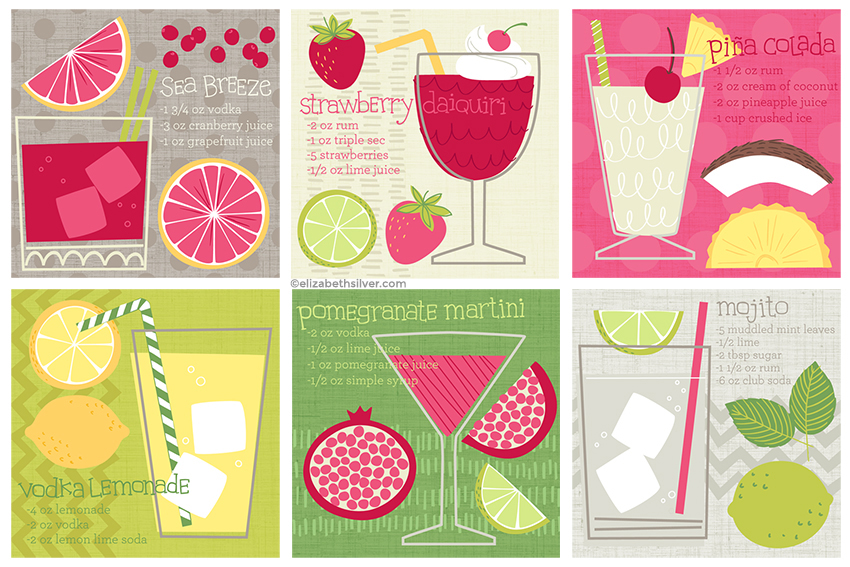 Share 3 Favorites
Cocktail: Any sort of fruit mojito or fruit infused vodka lemonade. I use a lot of fruit motifs in my work, and I also love it in just about anything I eat (or drink!)
Artist: In the fine art world, Roy Lichtenstein and Kehinde Wiley. In my industry, Iā€™m so enamored with Allison Blackā€™s charming illustrations and cards.
Ice cream flavor: Salted caramel, yum.
What part of the design process do you enjoy the most?
Execution, for sure! Actually starting in on something I already have a concept for i.e. doing a sketch to scan and starting to draw out the shapes in Illustrator is the fun part. Choosing a palette is also high on my list. I am a color fanatic, and was the kind of weird kid who kept one box of 64 Crayolas for drawing and one for keeping pristine to gaze at lovingly.
Could you share with us the favorite design of yours currently on Greenvelope.com?
My favorite design is also probably my most popular, ā€˜Clink and Drinkā€™ which is perfect for any sort of cocktail party or night out, but was originally designed for a Bachelorette invite. I love a cocktail, and I wanted to design something that was both fun and a bit posh. Simple glass outlines with a slightly off-kilter look paired with glittery gold make this invite really stand out.

What is your motto?
Lately, it has been ā€œDone is better than perfect.ā€ That may sound a bit flippant, as if Iā€™m not interested in giving my work 110%, but in fact itā€™s sort of the opposite. Being too precious about every design can lead to so much creative paralysis that there isnā€™t much work being done at all. By understanding that I can call something done even if Iā€™m not totally sold that itā€™s the best thing ever, I have found that at some point down the line, I either decide my design is much better than I thought it was at first or I go back and edit it until I do like it. Not a big deal.
Tell us a joke.
My favorite joke is better told than read, so instead Iā€™ll go with a silly joke:
Q: What does a nosy pepper do? A: He gets jalapeƱo business.
Other than stationery, what types of design or artwork do you do?
Almost any product that has artwork on it, Iā€™ve worked with. That includes party paper, greeting cards, apparel, bedding, dinnerware, rugs, and even garden flags. My personal style tends to be very colorful, fresh, and relatively simple, but after so many years designing for other companies I can do a bit of everything- hand drawn, watercolors, super intricate. You name it, Iā€™m up for the challenge.
A big thank you to Elizabeth Silver for joining us for Feature Friday! Do yourself a favor and check out her full stationery collection on Greenvelope here.