September 21, 2016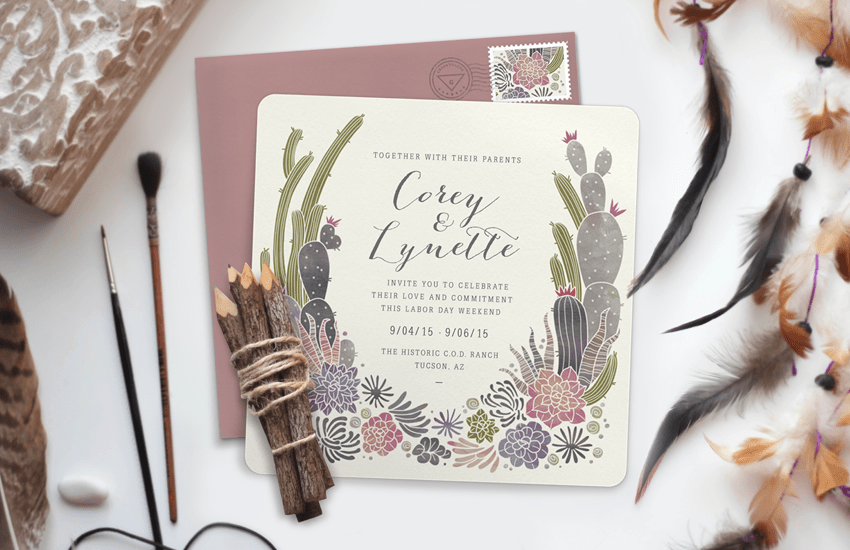 If you're anything like Lynette Cenée (YouTube star and makeup extraordinaire!) chances are, you might have a specific vision in mind when it comes to setting the tone for your wedding celebration.
Like many modern couples, budget and eco-friendly solutions were top of mind for Lynette and her husband. "Corey and I were thinking of ways to be a little more green, save some trees, and save some pennies," she says.
With interest in creating a custom wedding invitation that really spoke to her and Corey's venue in the southwest, Lynette reached out to us. She was looking for a unique, paperless design that whimsically captured the arid qualities of the desert. Her mood boards displayed gorgeous, bohemian-inspired images of succulents that were elegantly positioned in cool, mismatching metal planters and vintage metal cups. Staying true to Tucson, there were muted natural tones of sage green, dusty lavender, and smoky creams. She didn't want anything too formal and was drawn to designs that had a seemingly "hand-touched" quality. Something that was simple with a touch of subtle grit.
The final design was stunning and a true reflection of Lynette's vision. "The succulents and flowers had this really cool organic, desert vibe," she says. "I was so impressed."
Let us help you bring your vision to life! Our custom design services can help you create a truly unique save the date, invitation, or thank you card. Contact us at support@greenvelope.com for more information about our custom design options.